La maison Eloe
The place for vintage designer jewelry
Timeless, ethical and iconic. These are the words that define Maison ELOE, a unique place created by Delphine and Natty. These two lovers of signed jewelry and the world of luxury wanted to pay tribute to the most beautiful vintage pieces, created with love by the artisans of the great jewelry houses.
Discover the founders of maison eloe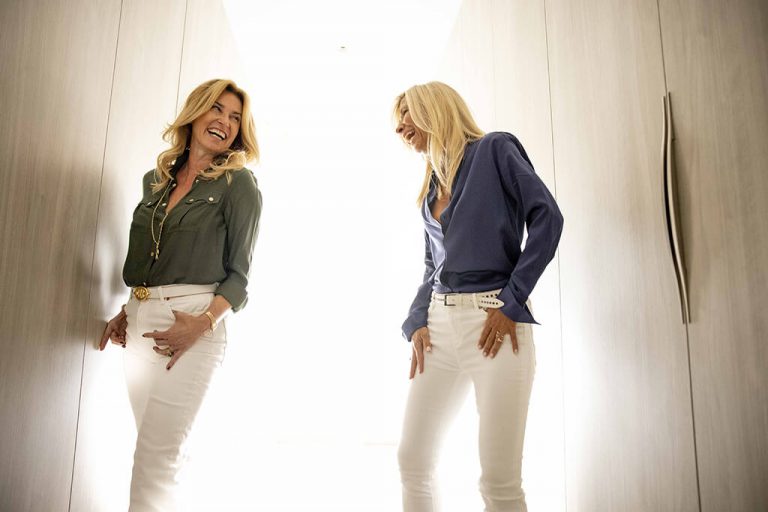 Delphine and Natty, it's an unfailing friendship that has lasted for over twenty years to finally lead, today, to the creation of Maison ELOE, all the vintage jewelry signed in a single click.
Delphine
For Delphine, it all began at Dior. She arrived for an internship at the Avenue Montaigne boutique when she came of age, but didn't leave until sixteen years later – sixteen years spent training and learning the codes of luxury, from haute couture to jewelry to buying collections. This world has become hers, what she loves, she masters the codes.
After Dior, the story continued at Missoni, where Delphine managed the French company for twelve years. But the woman who has never stopped designing her own jewelry from antique pieces wanted to launch her own project: to create a place for lovers of designer and vintage creations, concerned with giving them a second life. A place where luxury, ethics, DNA and timelessness are combined.
This idea came from a lack: there was, until now, no marketplace especially dedicated to vintage jewelry. Delphine thus founded Maison ELOE, a contraction of her first name and that of her daughter, Chloé. She would only learn it later, but Eloe is a medieval name from the same family as Eloi, the patron saint of goldsmiths. There are signs that do not deceive.
Natty
If Natty has always had a passion for jewelry, it's because she was introduced to it at an early age by her uncle, a jeweler in Italy. With each trip, she discovered the beauty of beautiful pieces and diamonds and enjoyed designing her own creations. This love has never left her, even less so in the Parisian artistic milieu to which she belongs. Costumes, jewelry and luxury never cease to fascinate her.
Natty then created the first event company that organized meetings with personalities in the luxury industry. She rubs shoulders with actors, musicians, singers and artists on a daily basis.
When Delphine, her long-time friend, tells her about her Maison ELOE project, Natty joins the adventure. Together, they gave life to this exceptional platform that brings together vintage jewelry enthusiasts, professionals and customers.
Maison ELOE's charitable commitmentss
Jewelry cannot change the world, but those who wear it can. Maison ELOE is committed to supporting the charities that are important to it.
We are committed to donating a portion of the profits from the sales of our vintage designer jewelry to UNICEF, Ruban Rose or associations that support families with disabled adults. Maison ELOE, like its jewelry, wishes to be part of the sustainability and transmission of values.
Maison ELOE's values
Jewelry does not change the world, but those who wear it can change it at Maison Eloe.
Maison ELOE, like its jewels, is committed to durability and the transmission of values. Durability of the pieces which cross the time, transmission of a true history.
The values that the House carries on a daily basis:
Charity. Maison ELOE makes it a point of honor to donate a portion of the profits from the sale of its vintage jewelry to charitable organizations that are close to its heart.
Sustainability. What was once a mass-produced jewel is now a unique luxury piece with a history, a true showcase of the trends of its time. Choosing a pre-owned piece means that it will shine for many years to come.
Ecological impact. Vintage designer jewelry is ethically sourced and does not involve new manufacturing costs. An important ecological commitment in an age of mass production, and a reduced environmental impact – a core value of Maison ELOE.
Beauty. A vintage luxury creation plays with time and defies today's fashion. The great houses can be found here, from Cartier to Tiffany to Van Cleef and many others. The pre-loved jewels, original and always timeless, have nothing to envy to today's models. More than ever, vintage luxury jewelry is shining and is destined to last.
Inspiration and trend

Maison ELOE on Instagram


Maison ELOE on Pinterest


Maison ELOE on Instagram


Maison ELOE on Pinterest